BROWNIAN 2 WAY PANASONIC GH5S 360/VR RIG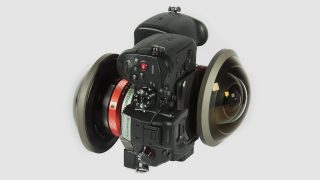 - 2 x Panasonic GH5S Cameras
- 2 x Entaniya HAL 250 3.6mm MFT Mount Lenses
- 1 x Entaniya Baseplate 
 - 2 x ACN 203 for Genlock / TC Jam
 - 1 x Remote Trigger system 
- The Panasonic GH5S 360 / VR Rig is a compact VR solution weighing 5.5KG that can deliver a 5K x 3K stitched output. 

- The GH5S offers timecode sync and up to 59.94 FPS when shooting in 4K Anamorphic mode. 
- 4K ProRes is also available when using an external recorder.